Masterclasses
Reflecting on the content of the conference in a variety of ways, and bringing jewellers and artists from different disciplines together: the masterclasses ran in the days prior to the conference and drew on the ACJ's membership and delegates at the conference.
The results of the workshops was exhibited at the London Metropolitan Furniture Works Gallery, Commercial Road, E1 during the conference.
The workshops were viewed as a key part of the conference. They brought together a critical mass of people prior to the event, ensuring that discussion was already underway by the time the main event began. The content of each workshop was intended to contribute to the debate through the artefacts that resuted.Bringing together artists from different arenas, disciplines and countries and people who could contribute a variety of different views on the content of the conference.
A total of six masterclasses took place:
London Metropoltan University held three Masterclasses: 'Finds: A Walk along the Thames', 'Enamel Panel', and "Mandalas and Mazes'.
---
'FINDS: A walk along Thames': Led by Professor Robert Ebendorf, University of East Carolina, USA – This workshop was concerned with collecting finds along the Thames Shore and re-appraising these finds into modern-day jewels.

Images: Katy Hackney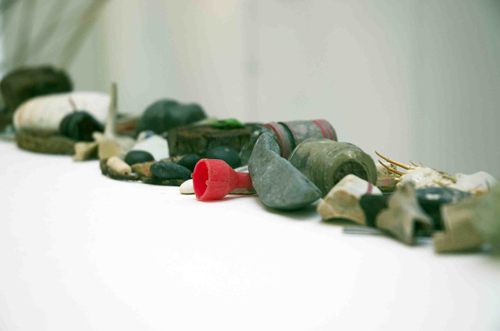 Left Image: Simon Armitt, Right: Katy Hackney
---
'Enamel Panel': Led by Elizabeth Turrell, University of the West of England, Bristol. Concerned with drawing and mark making on enamel panels to create an enamel installation piece: using found/recycled materials


Images: Elizabeth Turrell, Katy Hackney and Simon Armitt
---
'Mandalas and Mazes': Led by Alan Craxford and Jon Allen

Images: simon Armitt and Helen Carnac
---
'Silverware', Led by Stephen Bottomley, Sheffield Hallam, concerned with a 'dying industry'.

Left Image: Simon Armitt
---
'Birmingham Tribal' Led by Ted Noten and Jivan Astfalck, Birmingham School of Jewellery, UCE. Images to follow.
---

Participants included: Lin Cheung (GB), Christoph Zellweger (Switzerland) Chris Knight (GB), Maria Hanson (GB), Katy Hackney (GB), Beverley Price (SA), Kate Samuels (GB), Joan McKarrell (GB), Helene Turbe (GB), Bob Ebendorf (USA), Elizabeth Turrell (GB), Julian Robinson (GB), Mette Larson (DK)