Making / Meaning
A collaborative exhibition by Sigurd Bronger (Norway) and James Evans (Canada/UK) held in the Unit 2 Gallery, London Metropolitan University, London, England. 6 - 8th July 2006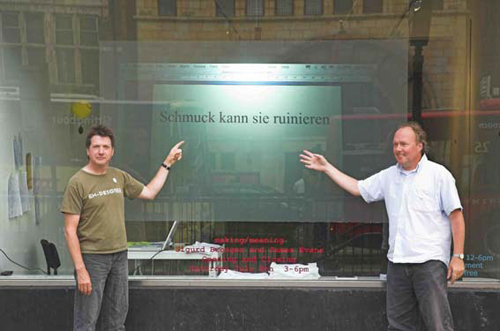 James Evans and Sigurd Bronger. July 8th 2006. Image: Simon Armitt

'making/meaning is an in-gallery exhibition project which concerns itself with several aspects of the mediation of objects into the culture. Two simultaneous public projects will be undertaken and developed during the course of the exhibition and will culminate in the presentation, dissemination and final exhibition of the parallel projects. It is intended that several aspects of the production, distribution and consumption of craft objects – and any resultant ethical issues - will become transparent.

The two projects will evolve in real-time during the course of the exhibition and the final presentation will be seen to be created, presented, consumed and criticised within the gallery space.

The exhibition making/meaning will involve the construction of both visual and literary texts'.
About the Artists

Sigurd Bronger, Artist, Norway – 'his work is always about 'refining' something simple and unremarkable. For instance, he takes natural materials like a goose egg or a sponge and places these on a technical construct so that it becomes 'elevated' and wearable at the same time. In his new collection we see objects like an eraser or a piece of soap 'celebrated' in this manner.
He also strips high-tech materials like a diamond saw or polishing linen of their function and reworks them into shiny, glittering and glamorous jewellery. He sometimes borrows this glamour from designer icons with a knowing wink. Sometimes his jewellery creates a focus, literally, through his use of lenses or a reflecting surface. For each item of jewellery Sigurd makes a small beech wood box in which to store it.
In this way, the storing and presenting of a small bijou becomes almost a ceremonial act which highlights the special quality and value of the object' (Paul Derrez)

James Evans, Writer and critic, UK/Canada - currently a Senior Lecturer in historical and critical studies at the University of Brighton and an Associate Lecturer at the University of the Arts London (Camberwell) contributing to 3D design, crafts, and Visual Culture courses. He has lectured and published feature articles and reviews on applied art and design for various international journals: Kunsthandverk (Norway); American Craft (US); Metalsmith (US); Azure, the magazine of architecture and design (Canada); Art Aurea (Germany); AN (UK) and Journal of Design History (UK) among others and he authored the online publication The New Jewellery 1976-1987: a documentational account. He originally trained as a jeweller and maintained a studio practice for several years exhibiting internationally. He was from 1985 until 1999 Area Head in Metals at Brighton University and visiting artist at universities in Canada, U.S., Norway and the UK. He is currently completing his Master's thesis in Film Studies at Sussex University.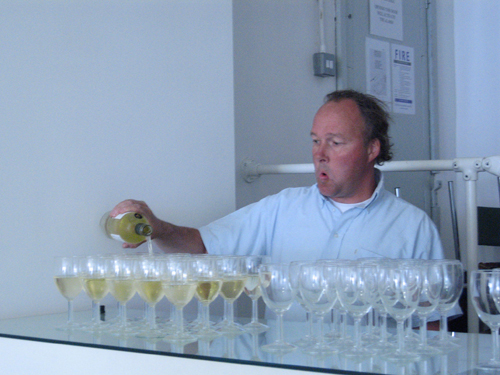 Sigurd Bronger. Image: Katy Hackney

Sigurd Bronger, Exhibition pieces. Images: Simon Armitt