Dialogue / Routemaster
The Dialogue Collective were invited to create a project for the 2006 conference which would stimulate debate and conversation whilst giving delegates an experience of London, outside the confines of the Brewery Conference Centre. They decided to do so from the top deck of a London Icon.

Dialogue was set up in 1998 by Lecturers and Alumni of the Sir John Cass School of Art, Media and Design at London Metropolitan University and Alchimia Jewellery School, Florence.

In the past 'Dialogue' has taken several forms, the focus a development of a range of exchanges: verbal, written and visual and the culmination the making of an object. The interest has come from the range of visual language used between group members and the diversity of the outcomes achieved. 'Dialogue' has been the catalyst for many artist-jewellers to develop new ways of thinking through debate and has become an arena in which artists can test ideas that they may otherwise be unable to realise.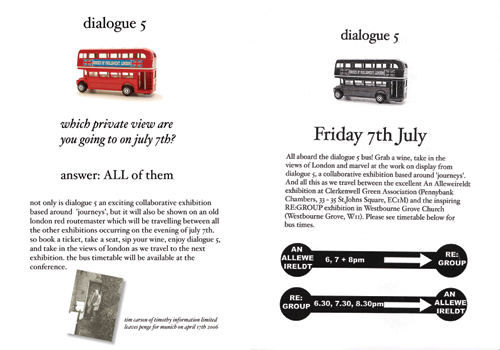 Dialogue 5/Routemaster took place on the evening of 7th July 2006: Eight members of the Dialogue team took part in this exhibition which was staged on a London Routemaster whilst the bus journeyed, with an audience, between two other exhibitions: An Alleweireldt, at the Clerkenwell Green Association, EC1 and Re:Group at Westbourne Grove Church, W11. It was hoped that this gave the passengers an experience of the exhibition and London at the same time and that in turn they would enjoy some good conversation on the way.

The Artists worked in pairs, hoping to generate ideas and conversations between the objects they created and in turn themselves. Commenting on their chosen partner through the work produced, an aim was to provoke an argument or response and dialogue between the partners, even if in some cases the partner proved to be distant in location or in mind. The exhibition was curated by the artists and installed in suit-cases which sat on the seats of the bus.

All images: Simon Armitt

Helen Carnac/ Tim Carson

Buddug Wyn Humphreys/Lewis Williams

Julian Robinson/Mette Larson

Louise Loder/Anna Talbot