Breakout Groups
Saturday strands 8th July 2006.

The aim of Carry the Can is to discuss new movements in the jewellery, arts and design arenas; our knowledge of material, origins, and ethical concerns and whether we have a responsibility to future generations and for the legacies that we leave behind?

The context is within craft practice and practitioner development, identifying ways in which designers, makers and educators can further contribute to global debate.

The Saturday strands looked broadly at these themes: Challenging and thought provoking debates ensued and provided a framework for questions to be developed that had been formed during the previous two days of the conference. These debates were started by a number of short, specially developed presentations and papers that were given in three sessions: Values and Materials; Reflection, Experience and Knowledge and Heirlooms and Legacies.

Values and Material
The Women's Library, London Metropolitan University
Chair Rachel Carnac
Convenor Helen Carnac
Speakers Sarah Kettley, David Gates
Sarah Kettley "An Engagement with Emerging Technology"
Abstract
This paper is a postcard from the edges of contemporary jewellery practice, at the point where the workbench meets emerging technology, giving an insider's account of work in the area of miniature networked computers. A call to further engagement, it aims to excite interest in some of the issues, states the ethical case for taking the leap, and considers some methods for taking ideas further.
There are strong ethical motivations for the engagement of craft practitioners with fields of emerging technology, not only in the potential for pointing to idealistic social relations in the creation of objects (through the contentious 'mark of the maker') [1], or even in creating the contexts for significant owner/object relationships [2, 3], but also in dealing with issues of immateriality [4], and in contributing to what is referred to as the 'design of social interaction' [5]. The powerful cultural role of the designer is well recognised, as are the responsibilities that attend that power [6, 7], and as theories of cognition that implicate not only the 'inner' mind, but also all the material resources within our environments take hold [8, 9, 10], that responsibility must be understood to be pervasive and fundamental. The idea of significance suddenly expands to include not just one wearer and object, but a whole complex network of inter-subjective being. Jewellery often aims to make that one-to-one relationship more meaningful, and this offers a valuable and legitimate approach to sustainable consumption. But jewellery can offer a more sociable view of the world as well, and this is what is needed in the development of meaningful networked products.
In the interests of making this task appear less daunting, the processes of five selected makers working at this intersection of disciplines are described briefly. Hazel White, Ulli Oberlack, Jayne Wallace, biojewellery, Norman Cherry, create artworks that may be digital or physical, wearable or two-dimensional, but which all engage with concepts surrounding advanced technologies. All have had to find ways of designing with materials that cannot be handled, with time and light, with sound, or with unknown potentials for interaction. What are the processes that allow a jeweller at the workbench to do this? Conceptual folio based work, time based media, and collaborative design and making practices are discussed here.
Further, to provide an in depth, first person account of this kind of process, the author's experiences are described. Details are given of two iterations of wirelessly networked jewellery incorporating mixed materials, such as Perspex, Formica, polyethylene 'paper', silver, gold leaf and pigments with visual displays. The current Arts and Humanities Research Council funded project, 'ensemble' is also introduced. This work deals with the social characteristics of jewellery, and has significance not only for the domains of wearable and pervasive computing, but also allows us to reflect on the network of social relationships that jewellery and adornment are a part of. Finally, the author's experiences are combined with the related work of the other jewellers already mentioned, and reflected upon to provide some initial guidelines for those who wish to ask important questions of, or through the use of new technologies.

[1] Reith, G. (2004). Consumption and its discontents: addiction, identity and the problems of freedom. The British Journal of Sociology, 55(2)
[2] Wallace, J. & Press, M. (2003). Craft Knowledge for the Digital Age. Paper given at the Sixth Asian Design Conference 14-17 October 2003, Tsukuba, Japan.
[3] Hummels, C., Gestural Design Tools: prototypes, experiments and scenarios. Doctoral thesis, Delft University of Technology, 2000.
[4] Moles, A., A. (2000). Design and Immateriality: What of it in a post industrial society? In V. Margolin & R. Buchanan (Eds.), (2000). The Idea of Design (pp. 268-274). London: MIT Press
[5] Wikipedia (2006). Social Interaction Design. . Retrieved 27 January 2006.
[6] van Hinte, E., Eternally Yours - Visions on Product Endurance. Rotterdam: 010 Publishers, Rotterdam, 1997. 
[7] Papanek, V. (2000). Design for the Real World. London: Thames & Hudson 
[8] Dourish, P., The Foundations of Embodied Interaction. MIT Press, Cambridge, MA, 2001. 
[9] Hutchins, E. (1995). Cognition in the Wild. Cambridge, Mass: MIT Press 
[10] Latour, B. (2005). Reassembling the Social. Oxford: Oxford University Press
David Gates
Value. Notes for a conversation.

The object and by extension its material makes expressive use of its surface - either worked or raw.
The surfaces in the work that I do, (I work almost entirely in solid wood) change graphically with every decision made in working. Wood carries prints of it's self; of its very history, it records weather and conditions. Fast grain, slow grain. Something of the material's voice speaking of it's past is in it's surface and the endless surfaces revealed in working.

With woodworking much of the perceived value of the material is only really established through working with it, as David Pye points out in The Nature of Art and Workmanship to look at a pile of English walnut most people would mistake it for a load of firewood. Half of the wood taken into a workshop comes out as rubbish produced through work.
So most wood as useful or beautiful is quite unfit for purpose without workmanship, this is plain as we have endeavoured for years to make materials that are more stable, economical and convenient by turning wood into chips strips and flakes to turn into panels that look and behave like what we imagine wood should do. Reliable, warm, reassuring and beautiful. It needs grading, it splits and cracks when drying, it moves with changes in the environment. So we do not respond to what is buried inside a log for simple functional material reason, there must be something alongside emotive/subjective and cultural conditioning. What does the surface say to us?

Surface, how deep is a surface? How can something so thin resonate with such complexities of association. We read - or trust and we conclude.

The floor of this room is rather good isn't it? Its made of planks of solid English oak and was laid by skilled workers when the library was re-modelled. Feels solid and warm, the acoustic is good too……well, actually it's a photographically printed foil bonded onto MDF panels then plastic coated, looks good though from a standing height eh?….. Maybe it is real wood, sawn very thin and laminated to an MDF substrate, or perhaps it's solid and laid with care but the wood was slash-felled in eastern Europe. Hey it might even be one of the 250 other types of oak. Look, I don't know the truth but you might have started to believe me because I work with wood but what I mean to say is it does matter where things come from and how they were done, it matters to us more than the function of the floor being smooth and level. Something lies deeper, we can feel hoodwinked or morally mugged if we don't know the story, the provenance if you like but story sounds more human.

Is value in or of the material or of its surface?
How thick is that surface, from the molecular change of burnishing to impasto thick glaze?
What constitutes surface?
Why do we value what?

An object might be said to have external and internal conditions causing value; external would constitute the material and the capital – scarcity, cost, exoticism. As well as being external they are fixed and long term. The internal might be made up of the personal and imbued – learnt, implied, sentiment. These are unfixed and might be long term but they can be lost through breaking the chain of custody or not telling the story.
Between these two might lie the cultural and conditioned, the long stories.

And I was thinking of Karl Fritsch's presentation of the other day; the statement of throwing down 300 grams of gold in a semi molten state, form undetermined and only to be speculated at…and 300 grams….a reference to mass – beyond and within surface. Value in the capital of gold subverted through culturally inappropriate workmanship. How about a companion piece? 300 grams of iron carved with skill and exactitude, an exact replica, the value of workmanship and time. Time learnt and time held.

There is after all nothing much more or less worthy or otherwise in a formal sense between materials until it has been assigned a role. If this role has boundaries, functional or cultural then we can measure appropriateness – metal for tools, ceramic as electrical insulator, wool for clothing, eggs for omelettes. Other materials in less defined situations undergo a conditioning process either culturally or economically or through the application of work and time.

Something happened recently that confused me. On a recent trip to Chicago – she thinks on the return flight Helen lost a simple yellow metal bangle. I think that she had always had it. Or as long as I have known Helen she has worn it and for just as long I had known it was made of gold; I don't know why I knew this, I assume Helen had told me. Anyway Helen was unsurprisingly upset and I was sad too, it was sort of part of her……. Then she told me it was made of brass and had no idea where I'd got the gold story from. I don't know what this means but I cant help thinking about the person that finds it.

The autonomous craft object, as surely anything photographed on a plain background becomes, without scale or context relies on its surface as conduit or interface for the message it has to tell, either visual coding or metaphorical prodding, its very skin is its very voice. Paradoxically some of the things that as humankind we have valued the most, beyond their use and into our spiritual life; the sky, fire, air, water have no surface. Existences as mutable and intangible. We value them yet cannot place a value on them.

And finally to the personal and the product. I have my late fathers 'Yankee' screwdriver. A beautiful tool. My mum bought it for him while they were engaged, I think she wanted to make sure he was well equipped for a life of DIY. It is loaded to the brim; memories, love, projects, handprints, chipped handle. A second hand screwdriver that is worth the world. We need to know our stories and be able to trust provenance, the connections and understandings of our own values.
---
Reflection, experience and knowledge
The Liebskind Building. London Metropolitan University
Chair: Ray Batchelor
Convenor: Heidi Yeo
Speakers: Mark Lewis, Laura Cave, Lynne Glazzard

Mark Lewis: "The pursuit of Value – The Jewellers Art as A Spiritual Discipline"
Abstract
This paper aims to explore notions of the spiritual in the contemporary jewellers art. Spirituality is understood not as something separate from everyday living (like another lifestyle or commodity), but as an experience that occurs at the heart of human life and give depth and integrity to our lives as people who live in a particular place and time. The spiritual is of course central to a religious life but is not contingent upon religion or religious practice to be meaningful. Spirituality is manifested in many forms but generally involves inner challenge and transformation. Spiritual practice is psychological self-actualisation and focuses on all that we consider to be of ultimate value – all that belongs to that elusive dimension that cannot easily be defined by words alone. There is a new hunger for the spiritual and artists and craftsmen are providing a new language by which to explore this important dimension.
This paper will propose that the jewellers art is well-placed to explore the inner life and be a realistic vehicle for promoting spiritual values. Small is beautiful, but small can also be a poignant and focussed message. Many artist craftsmen have explored the narrative function of jewellery to challenge social and political norms, proving that the diminutive scale of the jewellers art can make it a powerful language. Jewellery is an art form that appropriates the raw material of existence; it re-arranges it, shapes and intensifies it, creates sign and symbol. Of course, all visual art forms have this potential but jewellery has a particular ability to draw the wearer or observer into a deeper understanding of the relationship between the individual and common experience. Body adornment can concentrate experience and focus our awareness on the mysteries of the human condition, wake us up to the life we are living as well as exploring the sheer "is-ness' of things.
Typically, jewellery as a spiritual discipline challenges notions of preciousness and ideas of making and being. However, jewellery can and does go further than this to raise questions about identity and belonging, difference, personhood, the self, the complexities of human relations and mood and feeling. Certain contemporary art jewellers, eg. Clare Dinsmore and Jivan Astfalck seem to be working in this territory. It is through the work of these and other selected practitioners that the potential of jewellery as a medium of the spiritual will be explored.
---
Lynne Glazzard
Throughout this presentation I showed a series of images of my local landscape, home and studio with the aim of illustrating how a very direct relationship with the land influences the way in which I work.

I originally studied Interior Design at Hull School of Architecture, graduating 1996. Within architecture at that time the issue of sustainability was already quite important, it perhaps had a higher profile than in other areas of design. It was an important issue for me when I was specifying materials in my designs – I looked at the sourcing of materials as well as at the life-cycle. Looking back I find it is interesting how knowledge of a standard size of a sheet of plywood had an impact on some of designs I produced – I can see that I was anxious to avoid designing something that was wasteful of materials. I am also the eldest in a large family so I think was brought up with an awareness that nothing should be wasted.

When I started my course I was already living in North Yorkshire, in a small village close to Whitby – I was lucky enough to have got a grant (it was the last 3 years of the grants system) and supported myself by working as a waitress at weekends. It is a very beautiful area of the country and of course a popular tourist destination.

I still live in the same area. My partner and I bought part of a redundant farm a few years ago and I now live and work in a converted farm building. I was able to attempt to use some of my design ideas here – but not all of them. We live in a very open-plan way, the living room is just that – cooking, dining, sitting etc. My partner made the bedroom floor from planks cut from an old fallen cherry tree from a neighbours' farm and the living room floor and dining table are elm from a local wood yard. Unfortunately we also had to compromise with a laminate floor in the downstairs bedroom laid for speed as we were already living there – and the shower room has Chinese slate – part of a job lot the builder had left over from replacing the floors in the village pub. I think I have at last begun to appreciate that life is full of compromise – but that this is better if the choices are understood as clearly as possible.

While I was a student I joined the Ecological Design Association – and kept my membership up – although my work had shifted to teaching history of architecture part-time and enamelling and making jewellery. I didn't really think consciously about sustainability within my own work until in 2002 the EDA asked me to write an article reflecting upon my own practice.
This reflection had a dramatic impact – in fact I stopped making for about two months. After considerable thought, reflection and research I was able to convince myself to continue. I gained more of an awareness of some of the issues surrounding the production of some of the materials I was using – mining and processing, trying to find out about some of issue Christine Miller spoke about, and frankly they scared me, but I had also started to think about the potential lifespan of the things I was making and had looked at ideas about history and meaning. I was aware that I was making choices and comproimises all of the time. This was also a period that had seen the foot and mouth outbreak and a further decline in the viability of farming in the area where I had chosen to live.

Eventually as a result of all of this I studied for an MA in Design at Lincoln University and then obtained an Arts Council Grant to develop a collection of jewellery called Precious Land. Within this body of work I tried to express some of my own ideas and feelings about the environment and also used the patterns of my local landscape as a direct source of inspiration, sometimes responding to colour and texture or to the line and pattern in a dry stone wall.

When I wrote the article in 2002 I was, like many others, only working for myself part-time and juggling that with teaching. I did give up my part-time teaching at the University just over 2 years ago to concentrate on my own work. This conference has really made me think again about all those questions I had about the sustainability of my own practice and this kind of reflection is always useful to me – essential really. I live in a way that could have a very direct impact upon my local environment. My next door neighbours are now organic producers – my next winter's heating for the workshop will be a tree felled in a storm last year. Our waste goes into a septic tank – so the liquids drain onto our own land. I showed a slide of our water supply – a spring-fed tank on the hillside that supplies the 3 homes here, again the issue of not being 'wasteful' is a constant one. I still think that one of the real thrills for me is the recycling aspect of jewellery – this is my own re-processed silver scrap returned to me by post. I save every small filing of each of the metals - mainly silver, aluminium, copper in separate bins as I work. The local post office and postal service is also an essential part of my business. The smallness of what I produce – the ease of distribution – the social contact of the village shop – the reduction of a need to travel very far to earn a living – these are all things that are important to me now.

My background in interior design and architecture undoubtedly had a massive influence upon the way I see and understand things and will continue to impact upon my work. A number of speakers have touched on the issue of 'isolation' and I was particularly struck by what Felicity Peters said about it 'being a state of mind' but also about it being challenging and giving a kind of freedom. There is a certain irony here in that I personally have found a far greater sense of isolation here in the city, surrounded by all this choice of things, places, people and events – even amongst a group of like-minded people and where there are all these things I want to see.

Ultimately I suppose, if I am to draw upon the environment as a source of inspiration then I also have a personal responsibility to use its resources carefully and to look after it where ever I can.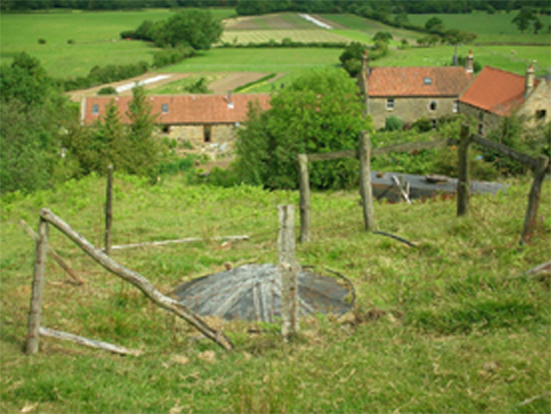 Water supply in the foreground with house and studio and neighbours' houses and the fields of organic vegetables in the background.



---
Heirlooms and Legacies
The Parker Collection, Furniture Works, London Metropolitan University
Chair Elizabeth Callinicos
Speakers: Christoph Zellweger, Alan Craxford , Jo Pond

Christoph Zellweger: "designed to desire, trade marks on the body"
Jo Pond: "A design process researching the narrative genre and addressing the psychological condition, Body Dysmorphic Disorder"